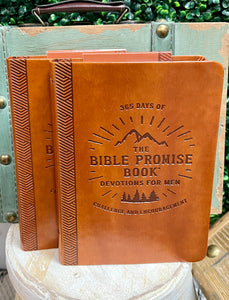 For nearly 40 years, The Bible Promise Book has blessed millions of readers by putting God's most encouraging promises at their fingertips. Now this handsome devotional presents 365of scripture's best promises to men-it's a whole year's worth of inspiration!
Organized into weekly themes, these readings cover more than 40 Bible promise promise book topics: adversity, anger, comfort, conversation, course, courage, eternity, and many more. 
Each entry includes a biblical promise and a devotional thought for context and understanding. Perfect for your daily quiet time or Bible study, The Bible Promise Book Devotions for Men is sure to challenge, encourage, and inspire!