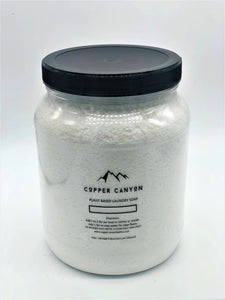 Plant Based Laundry Soap is a smart, beneficial decision. Added essential oil scent makes it even more desirable. This gentle, custom-scented detergent is free of irritating chemicals, crafted with coconut oil, washing soda and baking soda.
Directions for use:
For Laundry - 1 to 2 tablespoons per load of clothes. 
For Mopping - Use 1.5 tablespoons in a hot bucket of water to have safe clean floors for your pets and kids!
For Bathroom Cleaning - Use 1 tablespoon in the toilet tank to keep a clean and fresh bowl for about 20 flushes!
HE Washer safe!